Status of Law Clerks in India
Gain comprehensive insights into the world of law clerks in India. Unravel the intricacies of their roles, significance, challenges, and future prospects in the Indian judicial system.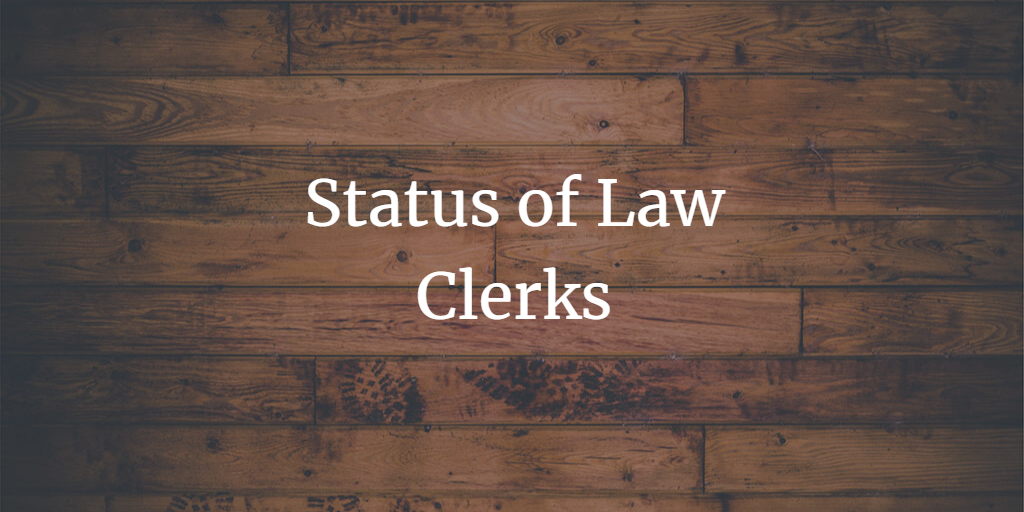 Table of Contents
Introduction

Role of Law Clerks in India

How to Become a Law Clerk

Benefits of Being a Law Clerk

Law Clerks Vs. Legal Assistants

Challenges Faced by Law Clerks

The Future of Law Clerks in India
1. Introduction
In the labyrinth of India's legal system, law clerks play a pivotal role. These individuals, often recent law school graduates, are entrusted with the responsibility of assisting judges, lawyers, and legal scholars, providing crucial support in legal research, drafting, and administration. Yet, the significance of their role is often overlooked, and their status remains somewhat ambiguous. This article delves into the status of law clerks in India, shedding light on their roles, responsibilities, challenges, and their crucial contribution to the legal system.
2. Role of Law Clerks in India
The role of law clerks in India varies significantly based on whether they are serving in a law firm, a corporate entity, or directly under a judge. In general, their duties encompass legal research, case review, drafting memos, pleadings, and briefs, and performing administrative tasks. Working directly under a judge, law clerks gain firsthand experience of courtroom proceedings, case management, and the intricacies of legal decision-making. Despite their significant contribution, law clerks are often considered subordinate within the legal profession. This is perhaps due to the temporary nature of their position, which is often seen as a stepping stone to more prominent legal roles.
Law clerks in India often serve as the backbone of the judicial system. They work diligently behind the scenes to ensure that the wheels of justice keep turning smoothly. Their responsibilities often extend beyond what is typically expected. For instance, in the case of a law clerk serving a Supreme Court judge, they may also assist in drafting the judge's speeches, contribute to academic papers, and sometimes, help with protocol duties during high-profile visits.
Their work, often invisible to the public eye, requires a deep understanding of law and the ability to navigate the labyrinthine legal system. They perform their tasks with utmost integrity, knowing well that any error on their part can potentially affect the outcome of a case. The ability to work under pressure while maintaining a high level of accuracy forms a significant part of a law clerk's job in India.
3. How to Become a Law Clerk
Becoming a law clerk in India typically requires a law degree, most commonly the Bachelor of Laws (LLB). After their law school graduation, aspiring law clerks can seek a clerkship position with judges or law firms. Several prominent law schools and universities also have established clerkship programs that help students get directly placed under judges or legal entities.
To work under a judge in the Supreme Court or High Courts, law graduates have to undergo a selection process which includes a written exam and personal interview. They must demonstrate excellent knowledge of the law, a knack for legal research, and a solid grasp of legal principles. Clerkship under a judge usually lasts for a year, and it provides an invaluable opportunity for law graduates to gain practical insights into the functioning of the judiciary.
While law schools in India provide the theoretical foundation, the art of becoming an efficient law clerk is mostly honed on the job. Many clerks start by interning with law firms, non-profit organizations, or judges during their law school years. These internships provide them with practical experience and help them build a professional network, which can be crucial for landing a clerkship position after graduation.
The selection process for a clerkship can be quite competitive, especially for positions with higher courts and renowned judges. The selection criteria often include academic performance, written and oral communication skills, research ability, legal reasoning, and sometimes, personal interviews. Candidates with a demonstrated passion for law, a track record of academic excellence, and strong interpersonal skills have a better chance of being selected.
4. Benefits of Being a Law Clerk
The position of a law clerk, especially when serving under a judge, offers a wealth of benefits. First, the clerkship provides an unparalleled opportunity to witness the judicial decision-making process from up close. It also provides the opportunity to delve deep into legal research, understand diverse areas of law, and draft legal opinions.
Law clerks can develop a close professional relationship with judges, which can serve as a potent network-building tool. These relationships often extend beyond the clerkship term and provide guidance and mentorship throughout their careers. Clerks can also learn the intricacies of court procedures, a skill that is highly beneficial for those planning to become litigators.
The impact of law clerks on the Indian legal system extends far beyond their contributions to the functioning of courts. By assisting judges and lawyers, they indirectly influence the creation of legal precedents, interpretation of laws, and delivery of justice. Their research and analytical skills contribute to the thorough examination of cases, resulting in more informed and fair judgments.
Moreover, many law clerks in India go on to become successful lawyers, judges, academics, or policymakers. Their clerkship experience equips them with a deep understanding of the workings of the legal system, which they carry forward in their future roles. This experience often leads to the betterment of the legal system in the long run.
5. Law Clerks Vs. Legal Assistants
While law clerks and legal assistants share some common tasks, like legal research and document preparation, there are key differences in their roles. One significant difference lies in their level of engagement with cases. Law clerks often delve deep into case facts, conduct in-depth legal analyses, and help draft judicial opinions. In contrast, legal assistants, also known as paralegals, perform more administrative tasks and are often involved in case management, client interaction, and legal document preparation.
Further, the paths to becoming a law clerk and a legal assistant are different. Law clerks are typically recent law school graduates serving a fixed term with a judge, while legal assistants may not necessarily have a law degree and could be permanent staff members of a law firm.
The nuanced differences between these two roles often get blurred, leading to misconceptions. However, understanding these differences is vital as it influences career decisions for many law professionals.
6. Challenges Faced by Law Clerks
Despite the benefits, law clerks face several challenges. Firstly, they often grapple with a high workload, which includes conducting extensive legal research, proofreading legal documents, and preparing case briefs. They also need to meet tight deadlines, which can result in a high-stress environment.
Secondly, law clerks in India generally receive a modest stipend, which may not be commensurate with the level of work they do. Additionally, since law clerks often work closely with judges or senior lawyers, the relationship dynamics can sometimes be challenging.
Being a law clerk is a rewarding yet demanding job. The challenges they face are multifaceted and primarily stem from the enormous workload and the pressure to deliver accurate results quickly. The nature of their job entails conducting extensive legal research, comprehending complex legal concepts, preparing legal memoranda and case briefs, proofreading judicial opinions and legal documents, and sometimes, even undertaking administrative tasks. Such workload often extends beyond regular work hours, making work-life balance a significant challenge.
Furthermore, law clerks, especially those working with high-ranking judges or in prestigious law firms, face high-performance expectations. They must be able to anticipate the needs of their superiors, understand the nuances of their preferences, and work in a way that adds value to their superiors' work. This situation often leads to a stressful work environment.
Financial remuneration is another area of concern. While the prestige and learning that come with the role of a law clerk are invaluable, the stipend or salary they receive often does not match the workload and the level of responsibility they carry. It's a challenge that needs to be addressed to retain talented individuals in this profession.
7. The Future of Law Clerkship in India
Looking ahead, the role of law clerks in India is likely to become even more critical, given the rapidly increasing complexity of legal cases and the growing need for specialised legal research. With digital transformation in the legal sector, the nature of tasks performed by law clerks may also evolve, requiring them to be adept at using legal tech tools and platforms for research and documentation.
In order to address the challenges faced by law clerks, improvements in the remuneration structure and work environment are necessary. Additionally, legal education institutions and professional bodies can play a pivotal role in providing career guidance and placement support to law clerks after they complete their clerkship.
In conclusion, while the status of law clerks in India presents a mix of opportunities and challenges, their role remains vital to the functioning of the Indian legal system. With the right reforms and support, law clerkship can become an even more attractive career path for budding legal professionals in India.