Eve Teasing In India And Tortious Liabilities
Explore the legal implications of eve teasing under criminal law and tort law in India, understand the societal responsibilities, and discover ways to combat this pervasive issue.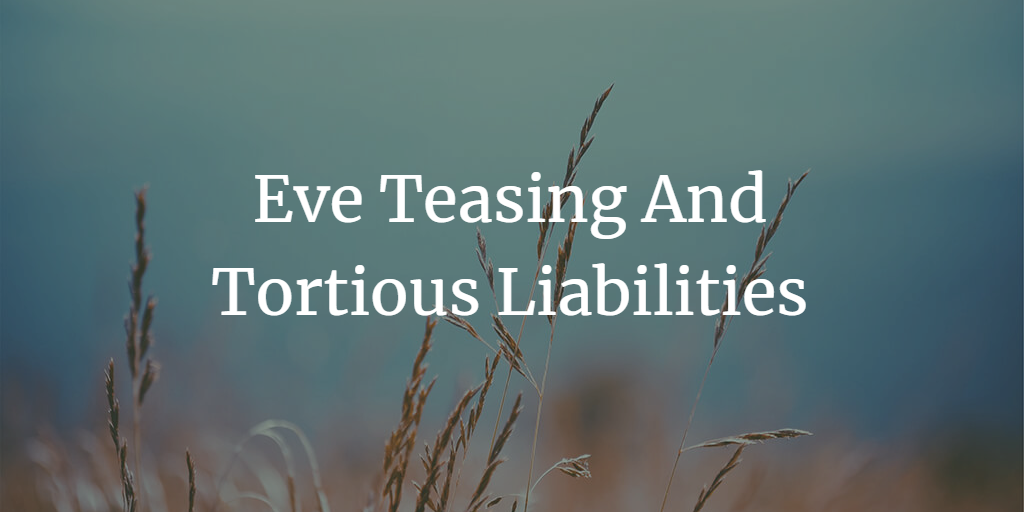 Table of Contents
Introduction to Eve Teasing

Eve Teasing: A Glaring Societal Issue

Legal Framework Against Eve Teasing in India

Understanding Tortious Liabilities

Tortious Liabilities and Eve Teasing

Case Studies and Legal Precedents

Role of Society and Institutions

Challenges in Implementation of Laws Against Eve Teasing

Role of Media in Highlighting the Issue of Eve Teasing

Future Course of Action

Conclusion
1. Introduction to Eve Teasing
"Eve Teasing," a term unique to South Asia, particularly India, refers to public sexual harassment or molestation of women by men, with Eve being a reference to the biblical Eve. The term includes a spectrum of bothersome behavior, including unwelcome verbal, non-verbal, and physical actions—lewd remarks, gestures, honking, catcalls, flashing, or even molestation. Though the term may appear playful, the repercussions are anything but, having deep-seated psychological, social, and physical effects on the victims. Despite existing laws, eve teasing remains a persistent issue, reflecting a broader societal problem.
2. Eve Teasing: A Glaring Societal Issue
India, with its cultural diversity and dynamic populace, has struggled with the issue of eve teasing for decades. The country has made significant strides in women's empowerment and gender equality, but eve teasing continues to hamper women's liberty and safety. This public harassment restricts their ability to participate fully in education, work, and public life, thereby undermining gender equality efforts. It also reveals deeper issues such as societal norms that passively accept such behavior and the impunity often enjoyed by the perpetrators.
3. Legal Framework Against Eve Teasing in India
India has a comprehensive legal framework to combat eve teasing. The Indian Penal Code (IPC), 1860, Section 354A, directly addresses sexual harassment and punishes offenses with imprisonment up to three years, fine, or both. The IPC also contains provisions against stalking (Section 354D), making sexually colored remarks (Section 509), and outraging the modesty of a woman (Section 354).
Besides the IPC, the Protection of Women from Sexual Harassment at Workplace Act, 2013 provides a robust framework to prevent and redress sexual harassment at workplaces. However, despite these laws, implementation and enforcement remain a challenge.
4. Understanding Tortious Liabilities
Tort law addresses circumstances where the actions or omissions of one party cause harm, injury or loss to another, and for which the injured party may seek legal remedy. A person who commits a tortious act is referred to as a 'tortfeasor' and is liable to compensate the injured party. Torts can be intentional or due to negligence.
Intentional torts are wrongful acts done on purpose. The person does not need to intend to harm the victim, only that they intended the act that resulted in harm. Harassment, including sexual harassment, may fall under intentional torts, where the harasser's actions cause mental, emotional, or physical harm to the victim.
5. Tortious Liabilities and Eve Teasing
Eve teasing, an intentional act of harassment, can be considered an intentional tort. The offender intentionally engages in actions that harm the victim. Therefore, the perpetrator could potentially be held liable under tort law for the harm inflicted on the victim.
In the Indian legal system, while criminal law deals with the punitive aspect of such actions, tort law could provide the victims of eve teasing with an avenue for seeking compensation for the harm suffered. However, the concept of suing for damages for such cases is not well-established in India, compared to countries like the US where tort litigation is common.
6. Case Studies and Precedents
Although litigation regarding eve teasing under tort law is not prevalent in India, there have been several notable criminal cases addressing this issue. The 'Vishakha Guidelines', landmark guidelines laid down by the Supreme Court of India in 1997, established the basic legal framework for addressing sexual harassment, including eve teasing, in workplaces. It was a major step towards recognizing the rights of women to work in a safe environment, free from sexual harassment.
Within the legal realm, the case of Apparel Export Promotion Council v. A.K. Chopra (1999) the Supreme Court ruled that eve teasing violated a woman's fundamental right to gender equality and right to life and live with human dignity, under Articles 14, 15 and 21 of the Indian Constitution. The court opined that eve teasing degrades the very soul of a woman and creates an unsafe atmosphere.
7. Role of Society and Institutions
The role of society and institutions in curbing eve teasing cannot be overemphasized. Schools, colleges, workplaces, and families must create a safe environment and teach respect for all genders. They should also take strong action against offenders to send a clear message that such behavior is unacceptable.
Public awareness campaigns can help educate people about the seriousness of eve teasing and the legal repercussions for such actions. Government and non-governmental organizations should collaborate on initiatives to raise awareness and support victims. Bystander intervention training can also be effective in preventing instances of eve teasing.
8. Challenges in Implementation of Laws Against Eve Teasing
Implementing laws against eve teasing in India faces numerous hurdles. Despite the availability of legal provisions, instances of eve teasing are often unreported due to fear of social stigma, lack of faith in the legal system, or ignorance of the law itself. Moreover, law enforcement agencies sometimes fail to take these complaints seriously, further discouraging victims from reporting such incidents.
It's also worth noting that the perception of eve teasing varies widely among different sections of society. What might appear as harassment to one person could be seen as harmless banter by another. This ambiguity often results in lack of consensus on what constitutes eve teasing, making it harder to enforce the law effectively.
9. Role of Media in Highlighting the Issue of Eve Teasing
Media plays a crucial role in highlighting the issue of eve teasing and shaping public opinion. By reporting instances of eve teasing and the subsequent legal actions, media can spread awareness about the legal provisions against such behavior and encourage more victims to come forward.
Moreover, media can also engage in constructive discussions about eve teasing and its implications on society, thus fostering a culture of zero tolerance towards such actions. Positive representation of women in media and avoiding the normalization of eve teasing in entertainment can significantly help in changing societal attitudes.
10. Future Course of Action
Looking ahead, it is essential to adopt a multi-pronged approach to tackle eve teasing. This includes stricter enforcement of laws, comprehensive education about respect and equality, and wider societal change.
Introducing eve teasing under tortious liability can offer an additional legal recourse for victims and may serve as an added deterrent against potential perpetrators. However, it is equally crucial to work towards a society where women feel safe and respected, and such measures are no longer necessary..
11. Conclusion
Eve teasing, a widespread issue in India, needs strong legal and social interventions to curb it. While the law provides for criminal punishment, introducing the concept of tortious liabilities could add an extra layer of deterrence and offer victims another avenue for seeking justice.
Changing societal attitudes is key to combating eve teasing. Collective responsibility, better awareness, and stringent enforcement of laws can go a long way in ensuring that public spaces are safe for everyone.
To sum up, eve teasing is a deep-rooted problem in India, with both legal and social implications. While existing laws provide some protection, there is much to be done to eliminate this menace. We all have a role to play in making our society safer and more respectful for everyone.