The Surge of Religious Crimes in India: Examining the Growing Hatred within a Secular State
Delve into the alarming upswing of religious crimes in India, and uncover the repercussions on the nation's secular framework. Discover effective and holistic approaches to combat this issue with utmost effectiveness.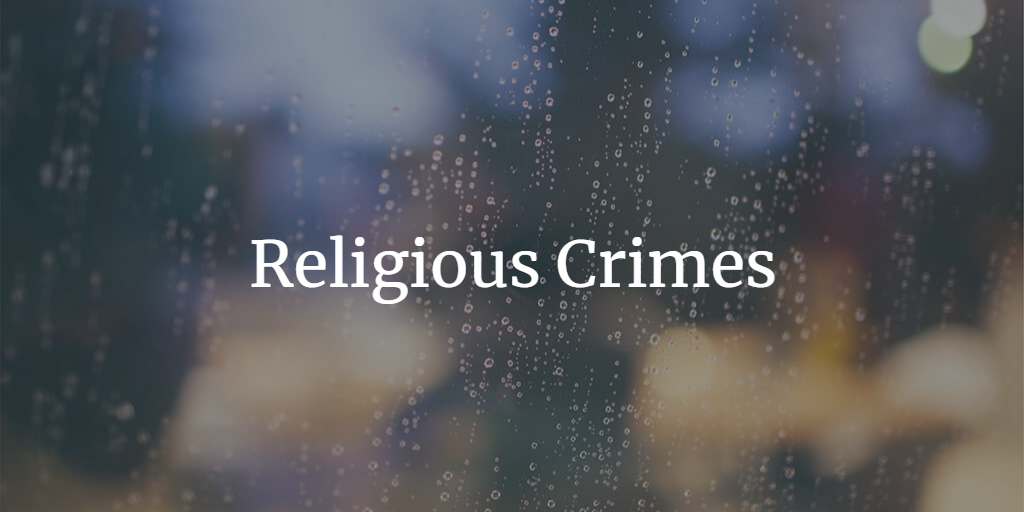 Table of Contents
Introduction

The Essence of Indian Secularism

Unraveling the Knot: Rise in Religious Crimes

Underlying Reasons for Religious Crimes

Impacts and Consequences

The Stand of Indian Law

Case Studies and Real-Life Scenarios

Tackling the Issue: Potential Solutions

The Psychological Impact of Religious Crimes

The Role of Media and Social Platforms

A Look at Global Trends

The Power of Interfaith Dialogues

Moving Forward: The Path Ahead

Conclusion
1. Introduction
India, a country known for its cultural diversity, has always cherished the principles of tolerance, harmony, and secularism. With people from various religious backgrounds residing within its borders, the Indian Constitution upholds the right of every individual to practice their religion freely. But recently, a disconcerting rise in religious crimes threatens to disrupt this peaceful coexistence, casting a shadow over the country's secular ethos. This article seeks to shed light on "Religious Crimes in India - A Rising Hatred in A Secular State."
2. The Essence of Indian Secularism
India's constitution, with its strong emphasis on secularism, was designed to foster unity amid diversity. As per its tenets, no religion holds supremacy over another, and each person is free to follow their beliefs without coercion. This secular framework played a pivotal role in nurturing mutual respect and cohabitation among diverse faith communities, turning India into a veritable melting pot of religions. Whether it's the call to prayer from mosques, the ringing of temple bells, or the hymns in churches, each religious echo is a testament to India's pluralistic fabric.
However, a rising tide of religious crimes is posing a significant challenge to these harmonious dynamics. Misunderstanding, intolerance, and outright hatred are causing deep fissures in the society, marring India's image as a secular state.
3. Unraveling the Knot: Rise in Religious Crimes
Despite India's deep-seated culture of religious tolerance, it is confronting a worrying rise in religious crimes. These offenses, often deeply rooted in religious animosity, include hate crimes, communal violence, forced religious conversions, and defamatory speeches targeting specific faith groups. Recent years have witnessed an unprecedented surge in such crimes, painting a grim picture of religious hatred and bigotry.
Moreover, the proliferation of social media platforms and their misuse as conduits of misinformation have only exacerbated the situation, stoking communal tensions and instigating violence. These digital mediums, despite their potential to unite and educate, have unfortunately become tools for divisive elements to spread religious hatred.
4. Underlying Reasons for Religious Crimes
The rise in religious crimes in India is not a spontaneous phenomenon; it is an outcome of several intertwined factors. Deep-rooted prejudice, intolerance, and ignorance about different religions often serve as the breeding ground for such crimes. A significant issue is the propagation of hate speech and misinformation on digital platforms, which can instigate communal violence and polarization.
Moreover, political manipulation of religious sentiments for electoral gains has been a contributing factor. Some political factions fuel religious disharmony, creating an environment where crimes against specific religious communities are either downplayed or ignored.
5. Impacts and Consequences
Religious crimes have far-reaching impacts beyond the immediate harm caused to the victims. Such incidents can breed fear and suspicion among different religious communities, tearing at the social fabric and threatening India's communal harmony. The fallout from these crimes can also lead to economic instability, migration, and even loss of lives during violent clashes.
6. The Stand of Indian Law
The Indian legal system, governed by its Constitution, is unequivocally opposed to religious crimes. The Indian Penal Code (IPC) includes various provisions designed to protect the freedom of religion and penalize religious crimes. For instance, sections 153A and 295A of the IPC criminalize acts intended to incite communal disharmony or insult religious sentiments.
However, the problem often lies in the execution of these laws. Despite their existence, the enforcement of these laws often leaves much to be desired. Law enforcement agencies sometimes fail to deliver swift and unbiased justice, which can perpetuate a culture of impunity and embolden potential perpetrators. Furthermore, the judicial process can be painfully slow, leaving victims in a state of prolonged suffering and uncertainty.
7. Case Studies and Real-Life Scenarios
The pervasiveness of religious crimes in India comes to light when we delve into real-life cases. Numerous reports of communal violence, hate speech, and targeted attacks have dotted India's contemporary history. These instances, occurring across the country, reflect the disturbing magnitude of the issue at hand. They underscore the need for an urgent and comprehensive strategy to curb religious crimes and uphold India's secular ethos.
8. Tackling the Issue: Potential Solutions
Addressing the problem of religious crimes in India calls for a multi-pronged strategy. On the legal front, there's a need for more effective law enforcement, speedy trials, and stringent punishment for perpetrators. It's equally crucial to address communal biases, if any, within the law enforcement agencies themselves.
On the societal level, education is the key. It's essential to foster a culture of respect and tolerance for all religions through education and awareness programs. Promoting interfaith dialogue, countering misinformation on digital platforms, and empowering communities to stand against religious hatred are equally vital.
9. The Psychological Impact of Religious Crimes
Religious crimes not only cause physical harm but also have a profound psychological impact on victims and communities. Individuals who fall prey to such crimes often experience trauma, fear, and distress. These incidents can also lead to feelings of alienation, fostering a sense of otherness in targeted communities.
In the longer term, the mental health impacts of religious violence can include depression, anxiety, and post-traumatic stress disorder (PTSD). Children, who are particularly impressionable, may carry these psychological scars into adulthood.
10. The Role of Media and Social Platforms
Media and social platforms play a dual role in the context of religious crimes. On the one hand, they can serve as vehicles for misinformation and hate speech, contributing to increased religious tensions. On the other hand, they also have the potential to foster understanding and counteract harmful stereotypes.
The role of digital literacy in this context cannot be understated. Educating users on how to discern fake news and hate speech can help prevent the spread of communal disharmony on these platforms.
11. A Look at Global Trends
While this article focuses on India, religious crimes are a global issue. From anti-Semitic attacks in Europe to Islamophobia in the United States, no country is immune. By understanding global trends and strategies employed to tackle religious violence, India can glean insights and enhance its own approach.
12. The Power of Interfaith Dialogues
Interfaith dialogues - conversations between individuals of different religious backgrounds - can play a vital role in promoting religious harmony. These dialogues help to break down barriers, challenge stereotypes, and foster understanding. They provide a platform for individuals to learn about other faiths, dispelling misconceptions that may fuel religious crimes.
13. Moving Forward: The Path Ahead
Addressing religious crimes in India requires concerted and sustained efforts at various levels. From policy and legal reforms to societal initiatives and individual actions, every contribution matters.
At the heart of these efforts lies one simple yet powerful tenet: respect for all religions. By embracing this principle, India can not only curb religious crimes but also strengthen its secular fabric, ensuring a safer, more harmonious future for all its citizens.
14. Conclusion
The issue of religious crimes in India is indeed grave and requires immediate attention. It not only impacts individuals and communities directly affected by such crimes but also poses a substantial threat to the country's unity, peace, and secular fabric.
In a multicultural society like India, respect and tolerance for all religions should be the cornerstone. With the right combination of legal reforms, effective law enforcement, and societal interventions, India can tackle the scourge of religious crimes and remain true to its secular values.
It's a collective responsibility that involves policymakers, law enforcement agencies, educational institutions, and every citizen. By standing up against religious hatred and violence, we can ensure that the essence of Indian secularism - unity amid diversity - continues to thrive.
In the words of the father of the Indian nation, Mahatma Gandhi, "Our ability to reach unity in diversity will be the beauty and the test of our civilization." It's up to us to pass this test and ensure a future where every citizen, regardless of their faith, can live with dignity and peace.
In conclusion, the rise in religious crimes in India presents a complex and concerning issue. However, with concerted efforts from all sections of society, it's a problem that can be overcome. The preservation of India's secular ethos hinges on our ability to maintain peace and harmony among diverse religious communities. To combat religious crimes effectively, we must rekindle the values of tolerance, respect, and unity that lie at the heart of Indian secularism.
With strong legal actions, community engagement, and increased awareness, India can reaffirm its commitment to secularism and quell the rising tide of religious crimes. It's a challenge that we must rise to for the sake of India's future - a future that embodies the ideals of unity in diversity, mutual respect, and peaceful coexistence.